What is a Home Energy Rating?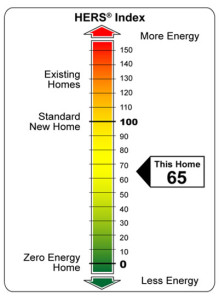 A home energy rating can be used to gauge the current energy efficiency of a home or estimate the efficiency of a home that is being constructed or improved. A home energy rating of a home prior to construction or improvement is called a "projected rating." A home energy rating that is used to determine a home's current efficiency is referred to as a "confirmed rating."
Energy assessments take into account different climatic conditions in different parts of the country and are benchmarked according to average household energy consumption particular to a given climatic region.
A home energy rating is a comparative analysis of how energy efficient your home is as opposed to other homes. A Home Energy Rater will conduct a series of tests on your house, including a blower door test and a duct test (for air leakage throughout the house and ducts).
Based on its performance, your house is awarded a score on the Home Energy Rating System or HERS Index. The HERS Index ranges from 0 to 150, and the lower the score, the more energy efficient the home. For example, a standard new American home, built according to the latest energy efficiency standards, is awarded a HERS Index score of 100, while a typical resale home is rated at 130.
Therefore, if your HERS Index Score is 70, what that signifies is that your home is 30% more energy efficient than a standard new American home and 60% more energy efficient than a typical resale home!